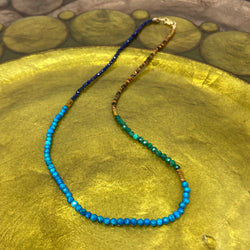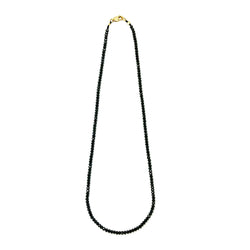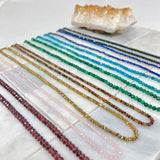 Romanov Layering Necklaces - In Stock
Available: ships within two days
Delicate layering necklaces made of 2-3mm micro faceted semi-precious beads, with 14K gold fill lobster clasp.  Necklaces measure about 16.5" long and can be worn alone or stacked all together.  Each stone has unique healing properties: 
- Rose Quartz is also known as The Heart Stone because it can help heal emotional pain & trauma and amplify peace and self-compassion.  It helps you feel connected, comforted, uplifted, and open to abundance.
- Gold Hematite grounds and protects us.  It brings courage, confidence, strength, endurance & vitality.  It also stimulates concentration & focus, enhances memory, and dissolves negativity.

- Tiger Eye can bring you good luck and protection.  It promotes mental clarity, banishes fear & anxiety, stabilises mood swings, grants us willpower, purpose, courage & self-confidence.
- Malachite is an important protection stone: it absorbs negative energies, attunes to spiritual guidance, and opens the heart to empathy & unconditional love.  It encourages the breaking of old patterns and teaches taking personal responsibility.
- Blue Apatite can help with motivation, ambition, self-confidence, and self-acceptance.  It can also enhance your psychic perceptions, creativity, and empower your inner voice.
- Lapis releases stress, encourages self-awareness & self-expression, and stimulates creativity.  It helps you speak your truth and inspires confidence. 
- Black Spinel is a grounding stone that can help release built up anger, fear, resentment, or grief.   It is also an invigorating stone and can boost physical energy & inspiration.