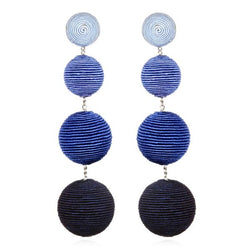 Silk Ombré Gumball Drop Earrings
Every item is handmade especially for you and may take 2-3 weeks to arrive.
Click here to learn more about our unique process.
Teal me about how perfect these ombré earrings are.

Tiered dip-dyed ombré drop earrings made of graduated sizes of round silk cord-covered balls connected with silver chain. Earrings measure about 3-1/4" long x 7/8" wide and have sterling silver earring posts. Top ball measures about 1/2" in diameter; 2nd ball measures about 5/8" in diameter; 3rd ball measures about 3/4" in diameter; bottom ball measures about 7/8" in diameter. Top post is backed in suede. Lightweight and full of movement.